The A Frame System Layer Battery System is designed both open and close house all over the world, especially for open house in big farm who has enough land, it is more suitable to be used in tropical zone such as Africa, Southeast Asia and South Asia Countries.
The A Frame System Layer Battery System  from Henan Jinfeng is Cold Galvanized or all Hot Dipped Galvanized Equipment, we can  control the standard and quality because Jinfeng has our own Wire Drawing Production Line to produce the cage wires, Automatic Cage Mesh Welding, Cutting, Bending and Cold/Hot Dipped Galvanization for Cages and Cage Leg Frames.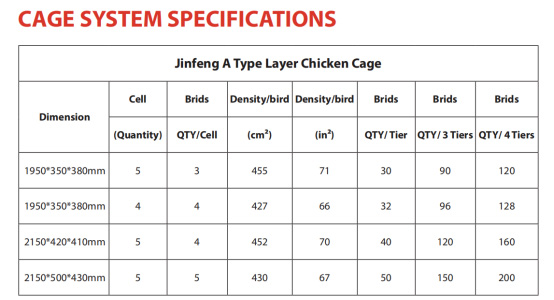 The Automatic Feeding System is connected with the augers which be delivered the feed from silo to te hopper and then can transfer the feed to feed troughs. The feeding machine from Jinfeng has been certified by ISO9001:2008. it is very popular design both for A frame cage system in poultry farms.
● Saving more labors because the automatic control panels can control feeding trolley.
● It can be equipped with all kinds of A frame cage systems, highly optimized for general use.
● The board are made of Aluminum Zinc plate, antirust and strong structure.
● Very easy to make installation and connect with the silo, feed delivery are automatic.
● With 360 degree flowing nipple drinkers, water drip cups and water pressure regulators, terminals, splits, water filters makes sure the water is clean and NO harm to the layers.
● Automatic Drinking System: Square or Round pipes (thickness 2.5mm) with stainless steel nipple drinkers, and constituted by Water Pressure Regulators (or water tank), filters and dosers from DOSATRON.